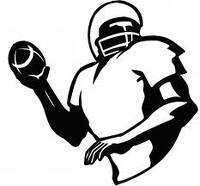 Almost 200 people were part of the pool this week and I thought for the third time we might have a perfect score. After the early games Jason Miller, Steve Benson, Brian Bussetti and Rick Johnson were all perfect at 7-0. Things settled down and where we stand now is Brian Bussetti and John Chenelier are tied with 11 wins. Both have the Eagles tonight but if the Chicago Bears win we will have a 4 way tie between Brian, John, Ginger Blazier and Marshall Toplansky.
Congratulations to last week's winner Amber Leila Esco who joins Kelly Christine Delaney, Rick Hurwitz, Clay Dethloff, J.R. Venza, Sam Picchiotti, Bob Tekampe & couldbStu in the championship week!
To see the current standings, click here. Erin Jewell, Andrew Dixon and Randy Carson are all tied with 93 wins in the cumulative rankings. The results page shows this week's current standings as well as the cumulative rankings.
Remember, the weekly winners will receive $50 and be given a spot in the grand prize pool during week 17 for an opportunity to win $400 and of course bragging rights for the next 6 months. In addition, the two people who have the highest cumulative score (these standing will be updated weekly) will be given a spot in the grand prize pool along with the weekly winners.
REMEMBER THERE IS A GAME ON THURSDAY NIGHT SO THE CONTEST CLOSES AT 5PM ON THURSDAY!
Click here to participate in this week's pool.
Feel free to share the link and have friends, colleague, relatives, kids and anyone else you want join the pool.
Good luck to all.