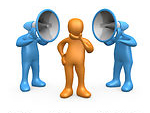 A few weeks ago I had the pleasure of attending a Baylor University S3 Advisory Board meeting and participating in a leadership panel. During the discussion, I was asked who the leaders that have influenced me the most are.
Without pause, I answered with two names very quickly:
John Boni – He was my boss when I worked for Quick Test way back in the 80's. He was an amazing person who taught me many things, including not to react to something when you are emotional, treat everyone fair and give back to the research industry.

The second person was my dad. Over the years his name has changed to JD, a nickname I gave him years ago. JD taught me so many things but one in particular has really stuck with me. I have always embraced and often share it:
When an opportunity presents itself, you need to do two things:
Recognize it's an opportunity.

Do something about it.
Thanks, JD and John Boni for having such an influence on my life!
One of the other things I discussed was the importance of having a great boss to start your career – John really was that. I was young, goofy and many other things but I was also impressionable and a sponge. John was perfect for my career. Unfortunately, he passed on shortly after he retired so I don't get to discuss business with him anymore but I do quote him often.
Think about your first boss (no names please).
Were they good/bad for your career?
What do you remember the most from them?
Who are the leaders that influenced your career the most?
I really look forward to reading your comments.