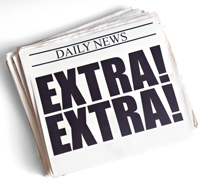 A few weeks ago I got an email (thanks R.R.) that was pretty funny. It had about 20 actual headlines from the newspaper. I thought I would share five of them with you:
Police Begin Campaign to Run Down Jaywalkers

Juvenile Court to Try Shooting Defendant

If Strike Isn't Settled Quickly, It May Last Awhile

Cold Wave Linked to Temperatures

Something Went Wrong in Jet Crash, Expert Says
I must admit I thought all of these were very funny but my favorite was 'Cold Wave Linked to Temperatures' – Really?
I hope this brought a smile to your face for a minute!
Have a great day!