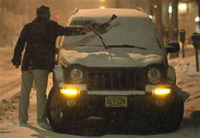 I think the title of this post says it all – the older I get, the more important the weather is. Yes, I grew up in the Northeast. Yes, I am familiar with blizzards, bad weather and short summers. I hate the cold and snow!
If you ask me to go skiing the answer is, NO! Not just because I tore my ACL over a decade ago but because I really don't like the cold, ice, snow and everything else that comes with it.
I still remember trying to get in my rental car around 6:30 AM in Boston last year to battle with a frozen door! I couldn't even unlock the car to try and get the car warmed up.
Yes, I live in Texas and yes, I love the heat! The more 100 degree days there are, the happier I am. You can do so much more outside with nice weather. Frankly, as I get older the ice (I assume) will be much more terrifying for me so I don't slip, fall and break my wrist or hip!
Ok, I said it – the older I get the more important the weather is.
What are your thoughts?
Has the same thing happen to you?
Are you going to retire to a cold spot or a warm weather city?
I look forward to reading your comments.