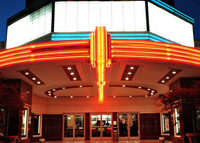 There are a lot of things I don't understand and this is one of them. Every time I walk into a movie theater I am amazed at how much space they have in the lobby and what a poor job they do turning that space into revenue.
Here are a few suggestions:
Why not rent the space out to a company that sells movie memorabilia?
Why not rent out the space to a company like GameStop that sells the most up-to-date games?
Why not rent out the space to Apple to see their hottest products?
I must truly be missing something because I think all three of those suggestions would increase revenue for an industry that might be looking for revenue.
They have the space, they have the customers and frankly they could easily match their demographics to attract the right opportunities for companies to target new customers.
What do you think of my ideas?
Do you have any other companies that should be included?
I look forward to reading your comments.