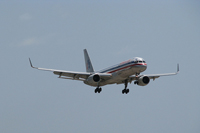 For years I have been flying a lot. In fact, during my lifetime I have flown almost 1.7 million miles on American Airlines alone. When you fly that often, lots of things can happen. From mechanical delays to people watching, it really is like a reality show every day of the week.
In the past 18 months I have had a few things happen that were a little different:
On takeoff from O'Hare, we hit a flock of birds and lost our left engine. We needed to make an emergency landing. We were greeted with 5 fire engines and other emergency vehicles back at O'Hare 5 minutes later.
Our flight in Ft. Lauderdale was forced to abort landing (we were about 500 feet from landing). The pilot made an announcement after we went vertical and said it was weather related.
I had another aborted landing in Atlanta a few weeks ago. This time we were less than 400 feet from the ground (as I am leaving the flight I always ask the pilot how close we were) and again went vertical this time even more quickly.
These situations happened very quickly and there is little time to freak out. Because I was traveling with my son during the Ft Lauderdale flight, I had a little more reason to pause and think about what happened.
The question is, am I lucky or unlucky?
I am really curious how people view this. I can argue both sides of the coin. Wow this happened 3 times clearly you are unlucky with the other side of the coin is yes it happened but I landed safely and not one person got hurt so that makes me lucky.
From my standpoint I would say I am lucky. In fact, very lucky!
Typically I am pretty positive about things and wonder if there is a direct correlation between people who would view my experiences as unlucky to being pessimistic in nature and people who would view them as lucky being optimistic most of the time?
Just a thought.
So I ask you….
I look forward to reading your comments.