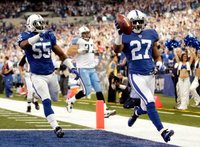 Yes I predicted the Colts would win their first game of the year and yes I knew that the Philadelphia Eagles would pound the NY Jets – frankly I peaked with those two picks. The rest of my week wasn't that good.
A ton of upsets – the Packers lost for the first time, the Detroit Lions came back from a 13 point deficit (sound familiar Cowboys fans) to win in the last seconds. San Diego sent the Ravens home with a loss and the Texans, yes the Texans got upset!
As far as the pool goes Tyson Chandler (code name for Josh Epstein) has a one game lead over Genevieve and Sonja Streich. If the Steelers win, Tyson (I mean Josh) wins. If the 49ers win, then it will come down to a tie-breaker…
Congratulations to last week's winner Scott Wallace. He joins Jacob Adler, Matt Hancock, Sharon Gautschy, Andy Davis, Marshall Toplansky, Amber Leila Esco, Kelly Christine Delaney, Rick Hurwitz, Clay Dethloff, J.R. Venza, Sam Picchiotti, Bob Tekampe & couldbStu in the championship week!
To see the current standings, click here. Andrew Dixon has a four game lead over Erin Jewell and Amber in the cumulative rankings. The results page shows this week's current standings as well as the cumulative rankings.
Remember, the weekly winners will receive $50 and be given a spot in the grand prize pool during week 17 for an opportunity to win $400 and of course bragging rights for the next 6 months. In addition, the two people who have the highest cumulative score (these standing will be updated weekly) will be given a spot in the grand prize pool along with the weekly winners.
REMEMBER THERE IS A GAME ON THURSDAY NIGHT SO THE CONTEST CLOSES AT 5PM ON THURSDAY!
Click here to participate in this week's pool.
THIS IS YOUR LAST CHANCE TO WIN AND BE PART OF CHAMPIONSHIP WEEK!
Good luck to all.