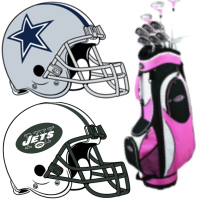 Yes I predicted the Colts would win their second game of the year and yes the Dallas Cowboys and The NY Jets aren't very good teams and both might be playing golf next week instead of football.
Congratulations to Jon Last who won this week in a tie breaker and joins Josh Epstein, Scott Wallace, Jacob Adler, Matt Hancock, Sharon Gautschy, Andy Davis, Marshall Toplansky, Amber Leila Esco, Kelly Christine Delaney, Rick Hurwitz, Clay Dethloff, J.R. Venza, Sam Picchiotti, Bob Tekampe & couldbStu in the championship week!
To see the current standings, click here.
Congratulations go out to Andrew Dixon who was the cumulative champion this year and Amber Leila Esco who qualified for the championship week again with her tie breaker win over Willie Martin and now has two spots in the championship week.
The results page shows this week's current standings as well as the cumulative rankings.
REMEMBER THE DEADLINE FOR THIS WEEK'S PICKS IS FRIDAY AT 5:00 CST.
None of the picks will be posted until that time. We will highlight all of the people who qualify for the championship week and there will be a second tie breaker game just in case we need it to determine a winner.
Click here to participate in this week's pool.
Good luck to all.