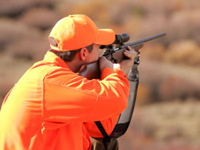 I recently had a few discussions about hunting. A few weeks ago I was speaking with a co-worker about what her plans were for the weekend and she said it would be a quiet weekend since her significant other was hunting. Then, a week later a buddy of mine that I play softball with was telling me about his latest hunting trip. He goes a few times a month and truly loves it. I must admit that I don't get it! During my two discussions I had tons of questions since I have NEVER been hunting:
Are they hunting with a gun? Bow & arrow?
How long do you go out and hunt for?
How cold is it early in the morning?
Is it just a bonding experience with some buddies?
I realize that you need to be still, quiet and not move a muscle, which isn't appealing to me since I am very hyper! Also, to be sitting in one cold place with the wind howling doesn't seem appealing to me.
I wonder if people who hunt love it and people who don't hunt don't like it or understand it.
I can't imagine going out and hunting a deer, cleaning it out and eating the meat. I know that plenty of people (especially in Texas) do it, enjoy it and can't wait to do it again!
What are your thoughts?
If so, what weapon do you use?
What is the biggest animal you have killed?
Is it a very somber time and are you deep in thought while you are waiting for an animal to pass by?
I really look forward to reading your comments.