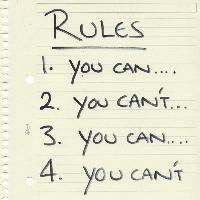 The past few weeks I had two things happen that I thought were shocking, amusing, frustrating, and perhaps ridiculous!
The first one happened as I was boarding an American Airlines flight back to Dallas. I was able to catch an earlier flight. As I was boarding, the gate agent stopped me and said I couldn't bring my carryon bag on-board. She said it needed to fit in the box that they had at the gate and if it didn't fit, it had to be checked. The bag was a little tight and probably would have fit if I had moved some items around but rather than allowing me to do that she said I would need to check the bag because it wasn't going to be fair to other travelers if I took up more space than allotted. I looked at her puzzled and said a few things: I used this bag two days ago and was able to bring it on the flight, I was able to get through two security checkpoints without being stopped, and most important the flight has 63 empty seats! The reason I know that is the agent who checked me in told me!
Again all she said was it isn't fair to the other passengers and I needed to check the bag. She was right in the sense the bag was probably an inch too big, but my point was empty seats means less luggage and who cares?
Would you have been frustrated as well?
Should the rules have applied or been bent a little because the plane was half full?
The second experience was even more comical. I took the kids to the beach. It was 58 degrees, but the kids just wanted to play in the sand, toss the football, and put their little feet in the water. We got there and parked ourselves 30 feet in front of the lifeguard stand and 10 feet from the water. As the wind was blowing I looked down the beach and saw only 5 people to my left and maybe the same number to my right. It was clearly not crowded; in fact everyone (who is smart) was home and warm.
My son and I started tossing the football, and low and behold the next sound I head was a whistle. I had no idea where it was coming from so I looked and the lifeguard was waving her arms and saying that we aren't allowed to toss a football on the beach. My look was comical and shocking and I responded with, "Are you serious? There isn't anyone here that we could hit or bother." While she did agree, she was adamant about not letting us toss the football.
Would you have been frustrated as well?
Should the rules have applied or been bent a little because the beach was totally empty?
I look forward to hearing your thoughts on both situations.