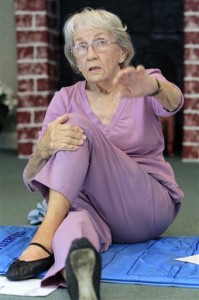 Over the weekend the read an article about Bernice Bates who is a yoga instructor from Florida. Like most yoga instructors she teaches from the front of the room while laying on her mat and doing all of the poses. She leads the class step-by-step while having her students follow her every move.
This sounds like most yoga classes and Bernice is just another yoga instructor. Well, neither one is the case. You see, this instructor started teaching over 50 years ago – yes, 50 years ago. Some of us (me included) didn't even realize that yoga was around 50 years ago. Well, it was and Bernice was involved. The amazing thing is, this lady is 91 years old and teaches a class every week. Her students absolutely love her energy and passion!
Wow – Bernice to be able to do something you love for that many years is magical and a dream come true. At 91 there are so many things I would still like to do – that list includes: playing softball, running around with my grandkids, or actually maybe great-grandkids. My long list of what I hope to still be doing at 91 brings three things to mind:
Play tennis – I would love to be able to play tennis (not in a wheel chair) with my friends S.S and K.W. This would be important to me to still be able to walk and run and be physical later in life.
Play cards, specifically gin. The reason I love gin is because it has so much strategy and in a lot of ways takes the luck aspect out. To be able to play that with A.S, S.S., G.S and A.B would be amazing and means that I still have all or at least most of my faculties.
Be a guest lecturer at a college. To be able to continue to teach, mentor and help people becomes even more meaningful later in life.
So, Bernice and I ask you, what would you like to still be doing at 90?
I look forward to reading your comments.