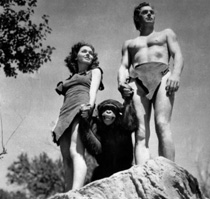 A few weeks ago I read that Cheetah the chimp from the Tarzan movies passed away. Cheetah was living in Florida at an animal sanctuary and died of kidney failure at 80 years old.
When I was reading the article a friend of mine called and the two of us discussed Cheetah and other animals on TV, which of course now has led to a blog.
My discussion with R.Z. was fun and we named a number of our favorite animals that we watched on TV. He went first and tossed out Lassie which might be the most famous and popular animal. I tossed out a few others, like Mr. Ed and Flipper, which were fun and popular animals but probably fell short of Lassie's popularity
Let's try and build a list of our top 10 favorite TV animals of all time. Assuming Lassie, Mr. Ed and Flipper are already on the list, what other animals should be considered?
I look forward to reading your comments.