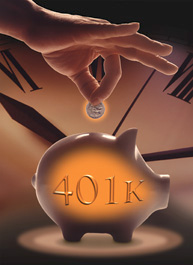 When the clock struck December 31, I knew something would be very different this year like no other. Yes, I will be older and in this case it is actually a benefit. This is very appealing to me because when I was younger (20's, 30's, 40's) I didn't save as much as I could or should have. I believe this is a VERY important lesson for younger generations and wish I had understood more of the benefits years ago.
Now to the exciting part of getting older! This is the year that I am allowed by the government (thanks!) to have a 401K catch-up contribution. In addition to the maximum, I am now allowed a $5,500 401k catch-up contribution this year!
Ok I must admit I am not terribly excited about being an age that starts with a 5 but this does make me happy that I now qualify for this additional benefit.
Have you always been in a position to maximize your contribution?
Do you contribute to your 401K?
Do you like the catch-up contribution as much as I do?
I look forward to reading your comments