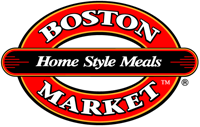 A few weeks ago I was going to lunch with a colleague (thanks S.H.) and we ended up at Boston Market. As we were eating, our conversation centered around the name of the restaurant. I was, and still am, curious if having a city in their name helps or hurts them?
We thought for a few minutes and came up with three restaurants that have a city in their name – the list we have compiled so far is:
San Francisco Oven Company
I am still wondering if having a city in their name is a good thing. Here are my thoughts.
Boston Market – I am not sure the name helps at all and in some ways might hurt. Meatloaf, chicken and turkey aren't really a mainstay in Boston so that's why I don't think it really helps the brand.
San Francisco Oven Company – I am neutral on this one. I believe the menu is all about the Bay Area but I am not sure people care and has the concept caught on?
Jersey Mikes – I think the city helps and helps a lot! When I think of cheesesteaks, chicken sandwiches, subs, and hoagies I do think of New Jersey. I really believe this name is perfect!
What do you think?
Does a city name help a restaurant?
What do you think of my comments?
What other restaurants have a city name in them?
I look forward to hearing from you.