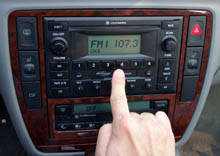 Over this past weekend I was watching some football games with my son. A few times he stepped out to get something to eat, drink or run around the house. I number of times he said, "What did I miss? How did the Patriots get to the 20 yard line?" Every time I would take my handy dandy clicker (love the clicker, not sure I ever could express how much) and hit the rewind button and low and behold he saw what he missed. I love the DVR function with DirecTV.
Please put that story to the side and think about this. You are in your car driving down the highway and your favorite song comes on. You are alone and singing very loud, or in my case loud and POOR. What if (love what if's) I told you, you hit a center button on your console and somehow someway you now have that song in your car library! You can replay it whenever you wanted and again sing very loud!
I have asked a few people if they have ever heard of this technology and everyone responds with, "No, but great idea."
What do you think?
Would you use this if it was a feature in your car?
Is there something out there like it?
Would you pay 25¢ per song?
I really look forward to reading your comments.