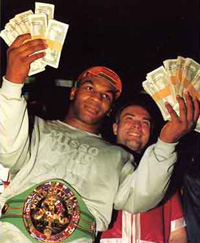 Often I have sports debates with lots of my friends. These include conversations with R.H., S.S., R.Z., J.B., and E.S., to mention a few. One of my recent discussions and rants involved athletes and the fact that most can't hold onto their money. Yes, they make a lot of money but let's not debate whether or not they make too much. This great country allows you to make whatever someone is willing to pay you. My issue is that most pro athletes have a short career. In fact, based on the information I have read the average career for an NFL player is probably 4 years, for an NBA player it is about 5 years, and for an MLB player it is around 6 years.
Here are a few great athletes in different sports that mismanaged their money:
Johnny Unitas—His yearly paychecks started at $7,000 and his biggest was only $425,000. Johnny is a Hall of Fame QB. it's hard to believe that he filed for bankruptcy in 1991.
Travis Henry—He was a great running back for the Buffalo Bills and Denver Broncos. Travis went into debt big-time. In addition, he lost a $25 million dollar contract with the Broncos when he was arrested for drug trafficking.
Kenny Anderson—He piled up over $60 million in NBA dollars before he filed for bankruptcy in 2005.
Scottie Pippen—Former Chicago Bulls star Scottie Pippen lost $120 million in career earnings due to poor financial planning and bad business ideas.
Evander Holyfield—Four-time boxing champ Evander "The Real Deal" Holyfield reportedly made over $250 million in cash during his boxing career, but despite this he is flat broke.
Lenny Dykstra—According to Dykstra's July 2009 bankruptcy filing, he owed more than $30 million to creditors, including his $18.5 million purchase of Wayne Gretzky's home.
Latrell Sprewell—Sprewell, who made over $96 million during his career, lost his $1.5 million dollar Italian yacht, named "Milwaukee's Best", in 2007.
John Daly—Two-time PGA major champ John Daly gambled away between $50 and $60 million in career earnings, according to his 2006 autobiography.
Jack Clark—Former professional baseball slugger Jack Clark was driven into bankruptcy in 1992 by his appetite for luxury cars.
Mike Tyson—The king of them all is boxer Mike Tyson, who squandered a $350 million to $400 million dollar fortune.
Interesting that this list spans a number of sports—baseball, football, basketball, golf and boxing.
I am sorry, but I think something drastic needs to be done.
What is it?
In my opinion, at least 25% of an athlete's pay should be deferred.
If and when that happens, an athlete has the chance to avoid hard times after their playing career is over. If something isn't done about this we will continue to see athletes fall on hard times.
Now your turn:
Do you think this is a real problem?
What do you think of my idea?
What other ideas do you have?
What would you do if you were the commissioner of one of these major sports?
I look forward to hearing from you.