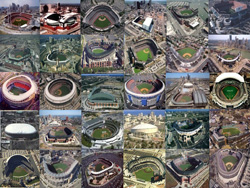 A few weeks ago I was speaking with a friend of mine and during the conversation he mentioned he was going to the M&T Bank Stadium to see a game. I was a little embarrassed as I had to stop him and ask where that stadium is and who plays there? Growing up, most of the stadiums was easy to remember and rarely changed names. Now, with plentiful sponsorship dollars being needed, names change often.
It's Time to take a quick, fun quiz, to see how well you know these stadiums and their names.
Please no help from Bing or Google. We will be timing you so we can post how many answers you got right and your time.