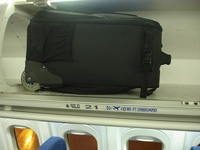 A few weeks ago I was with my college roommate on our way to Puerto Rico to meet a number of friends for our annual super bowl trip. I love KW but at times he can be a little forgetful, like the time he misplaced his passport in Mexico (perhaps a blog for another time). Anyway, he tends to be a little flighty. At 39,000 feet he said to me, "Merrill, please make sure I take all my luggage off this plane." Of course I nodded and said, "No problem." As we left the plane and went down the escalator to get our checked luggage I realized that I left one of my bags on the plane! Yes, you heard that right. It was midnight and I was on the other side of security when I realized my tennis bag, which had a ton of stuff in it, wasn't with me. In fact, it was on a plane that may be shut down for the night since I just saw the pilot and flight attendants walk by me.
As I went into problem solver mode, I came up with a few ideas. One of which was to go up the escalator backwards and run to the plane. But, I quickly realized that would be extremely foolish and not only get me in real trouble but perhaps a night in a 4×4 as well.
I was able to find a member of the American Airlines ground team, told him my story, and he couldn't have been any nicer. Sure enough, 10 minutes later he showed up with my bag! Thanks American Airlines!
Have you ever done something as foolish as I did?
Have any of your friends or family done anything goofy?
I look forward to reading your comments.