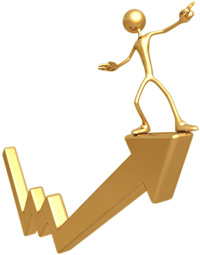 Yes, the economy was challenging in 2009, and the same in 2010, and still hard, unpredictable, and at times frustrating in 2011!
I say all of that doesn't matter –don't worry about the economy, worry about your company! There are some (perhaps not all) companies that did well! If it was your company that didn't do well, don't blame it on the economy, or a certain industry segment that went flat, or the fact that 5 of your contacts at your clients changed jobs, or that you lost one of your biggest accounts.
I say NONE of that matters! Too many times we hear stories from friends and industry contacts who say, "Well, the economy is really hurting us." Sometimes people can get lost and caught up in the economy – don't let that happen to you and your company. All of us are paid to do a job and need to do it. The easy excuse is to blame a down year on the economy. I would rather blame a down year on things that we did that didn't work out or strategies that may need a little more time to flourish.
Keep doing the things that will put your company in a position to be successful!
Evaluate what isn't working and either tweak that strategy or get rid of it.
Ask your clients what other services you could offer that could help them.
Challenge your internal teams to find ways to be more efficient – you will be pleasantly surprised to see what creative ideas your team will suggest.
I say success in 2012 is all about you and not the economy!
I look forward to reading your comments.