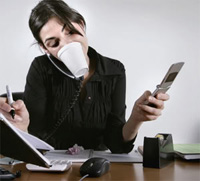 A few weeks ago I was driving the kids to lacrosse when I looked out the window and noticed a woman who was running with her dog. This sight is probably very familiar to most of you but this woman was a little different. She had the leash in her left hand (yes, the dog was attached to the leash), and a cup of coffee in her right hand. As she was running she could actually sip the coffee and navigate through the neighborhood. I must admit I was impressed – in fact, very impressed!
Talk about multitasking. I'm still not sure how she could drink hot coffee while she is running and holding on to the leash without burning her lips, but somehow, someway, she did it!
When I think about my life and multitasking, I think of a few things:
Writing or drinking water while I am driving
Reading while I am on the treadmill
Chatting on the phone while also on the computer
For me, multitasking is very important.
It allows me to accomplish more in a shorter amount of time. However, at times can be an issue if the tasks are important and I don't give any of the tasks the time that is needed.
How good are you at multitasking?
Describe a few times when you multitask.
Could you run a t a good speed, hold a leash in your left hand while sipping coffee?
I look forward to reading your comments.