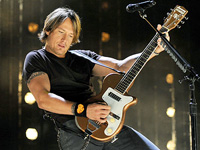 A few months ago I had the opportunity and pleasure of attending a Keith Urban concert. A few things I should say up front I have never attended one of his concerts and not a huge fan of country music but I thought it would be fun and an enjoyable night.
As the concert started I was pleasantly surprised at how much I enjoyed the experience and how much I learned about business during his show. Let me explain the comparisons that I see between a Keith Urban concert and a successful business:
Communicate – Keith addressed the crowd a bunch of times during the night with a fun story and a clear message.

Use surprises – Yes Keith walked into the crowd playing his guitar in fact he did that with security to the other end of the stadium. Lots of performers will do this BUT I have never seen one give away there guitar. Yes at the end of the song he gave his guitar to a fan!

Use the latest technology – Keith had some really cool video screens behind him that reinforced his message and kept everyone's interest for the entire concert.

Highlight individuality – Keith did an amazing job introducing his band and their talent. Every lead singer will do this but Keith really personalized them and genuinely looked like he was having a great time.

Notice Everything and Engage the Audience – Somehow, someway Keith noticed everything in the crowd. A sign in the top deck of the stadium, a shirt that someone was wearing and two people dancing too his music were just a few examples! I am sure his staff worked very hard (who knows maybe this was staged) at this but it was brilliant and made people feel special! Isn't that the exact message we want our business to be with our clients!

Leave your customers wanting more – Keith did two encores and at the end of the second one not one person out of the 20,000 people in the audience wanted to leave and clearly left wanting more!

Create Raving Fans – Keith did just that. The tweets, the posts on Facebook and the discussions that everyone had because of that night will pay enormous dividends in the future. I am sure most of the people downloaded his songs from iTunes that night or the older generation went to Best Buy the next day and bought a CD.

Use PR – Everything the Keith did was highlighted on the video screens, he gave away his guitar it was highlighted, he was walking into the crowd, it was highlighted, he brought someone up on stage it was highlighted.

Flexibility – Keith jumped around and was very flexible – ok maybe this is a reach but don't we want our business to be flexible?

Have fun – Not sure who had more fun Keith or his audience. He was engaged with what he was doing the entire time he was on stage. Clearly it was his goal that everyone has a memorable night and his goal was accomplished.
He is a great talent but probably a better showman and business person. His concert was an amazing night! He gave so much during his performance that it really is hard to describe in words. Every aspect of his show was all about his fans and ensuring that he delivered a picture perfect performance and experience. He is truly a gem!
I took away so much from his concert I only hope I was able to have every reader take away one little tidbit to help their business!
What is your favorite learning?
I look forward to reading your comments.