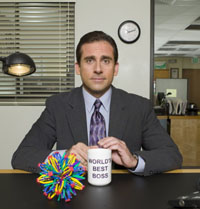 In the next few months, tens of thousands of seniors will graduate from college and a large percentage of them are looking for a job! For most of them, it will be their first job, or at least their first job that most people consider to be their first real job!
Lots of factors go into finding and accepting a job. Those factors can include:
To me, the most important factor isn't on that list. Being on a number of advisory boards for three universities I am asked very often, "What should I base my decision on?" My answer is always, "It's all about your first boss."
Some people are a little taken aback with my answer. Here are my reasons why your first boss is so critical:
Your first job is very important, and in some ways the most important job you will ever have. The right boss can really help shape your career, show you the ropes, mentor you, educate you on the political environment within your company and really teach you what you need to do to be successful.
If you ask people who have had a lot of bosses, most of them would say that the majority weren't that good. If you have one of those types of bosses early on in your career, it can really establish some very bad habits and not give you the framework to build your career for the future.
When people ask you about criteria for their first job, what do you say?
If you had to do it all over again what would be the most important thing for you?
What do you think of my number 1 criteria?
I look forward to reading your comments.