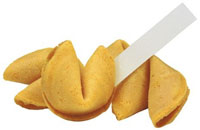 For those of you who don't know, I love Chinese food. I always have and always will. I was having lunch with two colleagues earlier and my fortune today was:
"RELY ON YOUR FRIENDS TODAY TO HELP MAKE THAT DIFFICULT DECISION."
Today's fortune made me pause for a minute or two to think about my friends and what I rely on them for. I put a very high value on friendship. I speak to them often and bounce ideas off of them.
Today's question is, what do I rely on my friends for?
Keeping me in check – meaning I love to bounce things off of them to make sure I am making the right decision on something.
Difference of opinion – Since I have so many friends I know one or two or ALL of them may not agree with something I am thinking. I love to call or visit with them, knowing they have a different opinion than I do, and understanding their point of view.
Experience life – I love to go away with my friends for our annual super bowl trip because we are typically experiencing something new together and that means so much to me, especially as I get older.
Watching my back – Knowing that my friends are there with a helping hand, advice, money if needed, ride to the airport, watching the kids or whatever else might be needed, is very comforting to me as I go through life.
Your turn:
What do you rely on your friends for?
Do you have a lot of friends?
Have they recently helped you out?
I look forward to reading your comments.