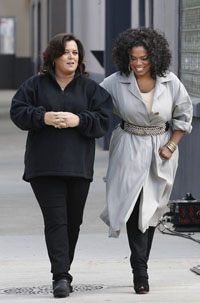 Ok, I must admit I am not a huge Rosie O'Donnell fan, but I was impressed with what she said after Oprah didn't renew her show for a second season.
I heard the story a week ago and just heard an interview with some of her comments:
"I loved working with Oprah in the amazing city of Chicago," O'Donnell said in a statement. "I was welcomed with open arms and will never forget the kindness of all I encountered. It was a great year for me—I wish the show was able to attract more viewers—but it did not. So I am headed back to my home in New York—with gratitude. On we go!"
Good for you, Rosie!
I am sure you were upset. I am sure you were emotional and wanted to vent. You may have felt you didn't get a fair shake, or have the right guests, perfect set, or even the best time slot – but none of that really matters. What does matter is the ratings, and they just weren't there.
Your comments were very respectful of Oprah and her network and you took the high road!
Not everyone does that!
What do you think of how Rosie handled the situation?
Have you ever let someone go who hasn't taken the high road (no names please) and how bad did the situation get?
I always believe that your last few weeks on the job are the most important and how you leave is how you will be remembered! If you trash your boss and the company it will take away from the years of great service you had demonstrated.
I look forward to reading your comments.