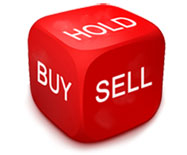 On two occasions I have bought stocks on the recommendations of friends. Both times they have been right. Well, sort of. I don't buy a ton of stocks on my own. Thankfully, I have a professional do that for me (thanks R.R.) but a few times a year I will take a shot after a conversation with a friend.
About a month ago on the advice of a friend I bought a stock, and after two weeks that stock was up 14%. I must admit I thought about selling, but of course I talked my way out of it with the sound advice that it will go up more so keep it so I don't miss out. Well, of course that wasn't what happened. What did happen was it dropped about 9% the next day and now I am up only a few percentage points. It was clearly a lost opportunity.
I wish I had sold and now who knows how long I will keep this stock?
I am sure this has happened to a lot of blog readers – What do you do?
Would you have thought I like did?
Would you have sold just some of your shares?
Do you have any stock best practices that you live by?
I look forward to reading your comments.