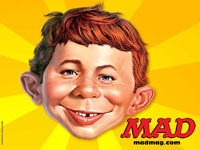 A few weeks ago I was in an airport bookstore and I came across a number of magazines. One of them was Mad. I didn't even realize it was still around but it made me think about my childhood and all the Mad Magazines I had that turned into a collection. Needless to say, I threw it away a long time ago, which gave me a little reason to pause and think about things I tossed over the years that I wish I hadn't.
Here are a few things:
My Stamp collection. It was never that big but it would have been really nice to have passed down to my kids.
My uniforms from all of the sports leagues I played in. That would have been really cool to have looked at uniforms from different years and showed my kids, who are now playing most of the same sports.
Matchbox cars – I had a pretty big collection and I would have loved to have my kids enjoy that over the years.
Your turn:
What are the things that you wish you didn't throw away over the years?
I look forward to reading your comments.