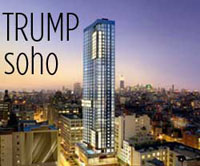 A few weeks ago I attended the '2012 Schlesinger Summit,' which consisted of 24 professionals from the research community who were brought together to discuss trends, threats, and opportunities in the research industry.
As usual, I was planning on staying at a Marriott property, but this time I decided, with a little help from S.S., to stay where the summit was, The Trump SoHo® New York. What a beautiful property with many amenities.
There wasn't a lot of time to watch TV, but when I finally settled down it was about 11:00 pm and I had the clicker in hand. At this hotel the clicker was very big, and yes, confusing! It took me awhile to figure out how to turn the TV on (come to find out many attendees couldn't even do that). Once I figured that out, I hit another button that closed the window shades, and another button that turned all the lights on. I was a little nervous to find out what some of the other buttons would do.
I woke up at around 3:30 am and the TV was on and clicker was close. Well, the next thing I knew I had the blinds going back and forth a number of times, and of course like a fool, I hit the button that turned the lights on. Yes, a very funny scene unless you are the thing I threw the clicker at.
The interesting thing was that I didn't find any instructions on how to use this clicker or a guest who had stayed the night who figured it out. The hotel was beautiful, the amenities were great, but the clicker and all of its technology were a little troublesome.
So I ask you, is there such a thing as too much technology?
Have you ever had a situation where the technology was fantastic but tough to understand?
I look forward to reading your comments.