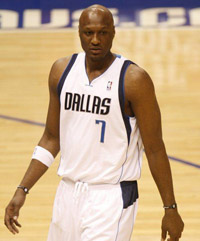 I am not sure how many professional sports games I have been to, but it is a lot. I must admit, as I get a little older I not only watch where the ball or puck is, but what the players are doing and where they are moving when they aren't in play. Over the past few months I have been doing this a lot for the Dallas Mavericks and focusing on a few players, especially Lamar Odom.
Let me start by first saying I have never disliked him, thought about him a lot, or even focused on his career when he was in college or playing for the Lakers. In fact, I knew very little about him until he became a Maverick. Because I like the team I typically will like most, if not all, of the players.
During the past few months I have never ever seen a player who cared any less than Lamar Odom. He rarely moved on the court and clearly was never engaged with the team. It was almost like he wasn't trying. He appeared to have the attitude like, "Hey, I have won my NBA championship trophies, won the 6th man of the year award for the 2010/2011 season, and I don't have to prove myself at all."
It's interesting because the Dallas Mavericks are an overachieving, blue-collar, hardworking bunch. Think about the nickname of one of their players Brian Cardinal – 'The Custodian.' He cleans things up with his blue collar style.
Watching Lamar Odom over the past few months was almost like watching a reality show with someone stealing money in front of you. Funny – perhaps that is his next reality show with Khloe.
I realize that Lamar has had to deal with a lot of things. The death of a daughter, his cousin getting murdered, and being a passenger in a car accident that resulted in a fatality, is a lot to handle. I won't even focus on his marriage being under a microscope, their reality show, and some of the other stuff he is involved with. While I can sympathize with what he is going through, I can't accept the fact that he was late for meetings, didn't try on the court, and disrespected his teammates, the NBA, and the city of Dallas. Everyone goes through their own stuff. I wish he would have been smart and mature enough to take a leave of absence from the team and the NBA; take whatever time he needed to clear his head and resume his career.
Of course that could never happen with an 8.5 million dollar salary!
What are your thoughts about my position?
Have you witnessed other athletes who cared as little as Lamar did?
I look forward to reading your comments.