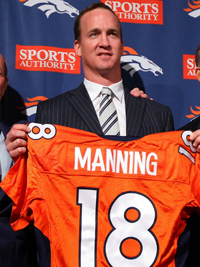 The dust has started to settle but I am still upset and disappointed that Peyton Manning is NO longer an Indianapolis Colt. I am NOT a Colt fan at all but I am old school and really love when professional athletes, especially superstars, play their entire career in one city!
Growing up, my favorite baseball player was Carl Yastrzemski. He played 23 years with the BOSTON Red Sox! 23 years! Amazing! He played against, and I rooted against, Brooks Robison, who played 23 years for the Baltimore Orioles!
I can go on and on about great players (back in the day) playing for only one team! LeBron James is probably the best basketball player in the NBA—will he be remembered as a Cavalier or a Miami Heat player? Or who knows—another team?
I look in my kids' closets and see so many shirts of players that don't play for that team anymore. I know times change, and I know I am old school, but this really bothers me!
When you favorite player gets traded or signs with a different team, do you root for that team as well?
Don't you wish superstars only played for one team?
I look forward to reading your comments.