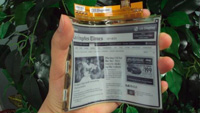 I just read an article that was discussing the future of digital reading. It is really interesting and cool to find out the device will be very flexible. By flexible, I mean bendable, not multipurpose. LG has announced the first malleable, plastic e-ink display, and while it's hardly iPad Retina clear, it will be appearing in devices as early as this summer.
The six-inch display is made of plastic, it sports a resolution of 1024 x 768, and it bends at an angle of up to 40 degrees.
It's also thinner—at just 0.7 millimeters—and lighter than its glass counterparts, weighing in at 14 grams.
I think this is very cool and will be extremely popular.
Have you heard about this?
I look forward to reading your comments.