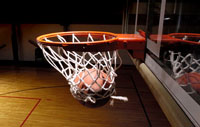 A number of times over the past few years I have stayed in hotels while an NBA team was staying there as well. A few things were for sure – you always had fans milling around in the lobby trying to get an autograph and there was always a team bus in front of the hotel. Most teams fly in the night before a game and will have either a practice or light shoot around at the arena in the morning or early afternoon of the game. Then they will go back to the hotel, take a nap, listen to music, etc., and then meet maybe 3 hours before the game in the lobby to take the team bus back to the arena.
This exact scenario happened a few weeks ago in Oklahoma City when the Boston Celtics were in town. My question is, why does it happen that way? Every business is looking to differentiate and separate itself from the competition – most people would agree with that statement. If that is true, why hasn't a hotel been built with a full, professionally constructed basketball court in the basement?
Wouldn't that attract professional NBA teams?
Wouldn't that attract men's/women's college and high school basketball teams?
Doesn't this make it easier and less stressful for the teams to know all they have to do is take the elevator to the basement, walk past security, and attend practice?
Wouldn't that save on transportation costs for these teams?
Doesn't this make it real easy for gym rats like Ray Allen and other stars that shoot for hours?
What am I missing?
I really think this is a good idea and look forward to hearing from you.
PS – when the court isn't in use with a pro or college team it would be used by hotel guests for $5.00. Sign me up! I would use it all the time!