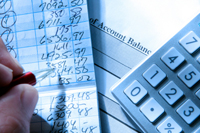 Over the weekend I opened my bank statement from my Chase account. In the statement was some additional information—some additional helpful hints and instructions and directions on how to balance your checkbook.
The 5 step process was clearly written and easy to understand. My question is, does anyone do this anymore? Does anyone care? Does everyone think that the bank always get things right? If everyone is checking their account online, don't they quickly know if there is a mistake?
I was curious what people do and asked 5 random people in my office, yes or no, do you balance your checkbook?
The answers were almost exactly what I thought. Only 1 person said yes, and she is our VP of Finance. If I had to pick someone on our team who does balance their checkbook, it would have been her.
So I ask you:
Do you balance your checkbook?
Why do or don't you balance it?
If not, when did you stop balancing it?
I look forward to reading your comments.