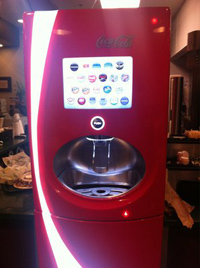 A few weeks ago I was at a fast food restaurant and went inside because the drive-thru was backed up. As I was trying to decide what I was going to eat I saw a note on the menu board that said "We have over 115 different types of drinks." As I looked to my left I saw this beautiful looking piece of art that was actually a new soda machine. After lunch I went to CVS to pick up some vitamins at CVS and the next thing I knew I was in the right aisle but there must have been 20+ different choices and to be frank, I had no idea which one I should buy!
Is there such a thing as too many choices?
I must admit I am a little nervous when someone asks me to pick up a bag of chips. In the grocery store these days there are literally hundreds of different choices in the snack food aisle and it is almost a guarantee that I will buy the wrong item!
There are only a few choices when getting gas – which in my opinion is a good thing. How long would it take me to make a decision and pump gas if there were 39 choices? Hint – a very long time!
Isn't it possible that too many choices slows down the line and costs the retail establishment or QSR money?
Can all of our brains handle all of the choices of today?
In your opinion are there too many choices in certain categories like gum? Coffee?
Are there certain categories that have too many choices?
I look forward to reading your comments.