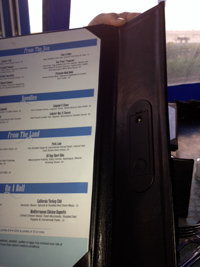 Let me know if this sounds familiar:
You are in a nice restaurant
You forgot your reading glasses
and you can't read the menu!
Well this happens to me often and recently it happened at a Florida restaurant called Oceans 234. Well this restaurant was very creative and clever. Check out the picture. On the right side is actually a small, powerful, and effective flashlight built into the menu! Yes, I said built into the menu.
What a great idea – thanks for being a problem solver!
What do you think of this idea?
Have you eaten at other restaurants that have flashlights built into the menu?
Any other creative ideas from restaurants to assist you in reading a menu?
I look forward to reading your comments.