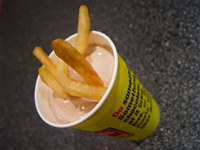 A few weeks ago I was with my kids at Steak & Shake – it wasn't my pick, it was my daughter and youngest son's choice.
Anyway, I look over my right shoulder and see a 20-something year old taking a French fry and dunking it into his chocolate milk shake – I promise you, this isn't made up or embellished at all. To me it wasn't appetizing at all, but I am sure it is to some and who knows perhaps how many. Of course my brain went in a crazy direction and ended up at this place: What other items do people dip things into?
For me, I like to dip potato chips into cottage cheese. I have seen one of my little ones dip potato chips into ketchup and soup.
What different and fun creations do your kids make?
What do you dip things into?
What is the craziest or oddest thing you have ever seen someone dip something into?
I look forward to reading your comments.