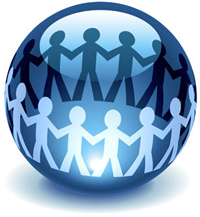 Today's technology is amazing, easy and frankly exciting. Many people move from city to city, change jobs, change schools, and in the process lose touch with family, friends, and co-workers.
When that happened years ago all we could do was call the last number we had and pray it was right – if the number was disconnected our search and attempt to reconnect was pretty much over.
Well, that isn't the case in this day and age.
With LinkedIn, Facebook, Google, Bing, and so many other tools it is pretty easy to find someone and get reconnected. So if you:
Haven't spoken to a childhood friend in a bunch of years
Lost touch with a relative
Are curious what a college friend is doing
Want to see where a co-worker from your first job ended up
It's time to get connected!
Time goes by fast – in fact, very fast.
Don't wait! The time to get connected is now, so I challenge every reader to reconnect with one person and share their experience!
I look forwarded to reading your comments.