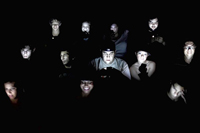 I am sure if you have gone to the movies in the past few weeks or months you have heard the announcement before the movie starts that says, "Please turn your phone off and don't text during the movie because it can bother other customers." I wouldn't disagree with that statement, but the question is, "How many would it bother and are they in the majority or minority?"
Nobody can argue with the fact that social media has exploded and changed our lives in the sense of what we do and how we do it. Isn't the movie industry a little these days?
Shouldn't they say, "Go ahead! You like the movie. Tweet away!"
Or "Please go to our Facebook page and click the like box."
Or to tell you to email, tweet, etc. everyone you know that you are at our movie theatre, love the food, the customer service, the experience and everything else you can think of.
I truly believe the people that are offended by tweeting and texting during a movie are now in the minority – do you agree?
I also believe that the message of 'turn off your phone' will go away very soon and be replaced with 'please text and tweet all you want' – do you agree?
Does tweeting/texting bother you during a movie?
Would you tweet or text if movie theatre allowed it?
Do you think I am right or wrong?
I look forward to reading your thoughts.
19 Responses to "Turn Your Phone Off Will Change To Turn Your Phone On…. But When?" - Leave a Reply
| | |
| --- | --- |
| Thank you for your comments. If you would like to sign up for your picture to be displayed next to your comments, click here to go to gravatar.com | |