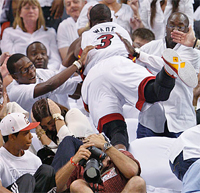 While I was watching the NBA finals on TV last month with my son, I noticed a loose ball was headed for the stands. The next thing I know is D Wade launching himself into the stands to try and keep the ball from going out of bounds.
I totally understand that all fans (including myself) want to sit very close to the action. There, you can get an up-close and personal look at the players, hear them trash talk, hear the coach yell, or in some cases, swear at the referee and his own players. In some arenas like Madison Square Garden, the Staples Center and a few others, the closer you are, the more you will be seen – which by some standards (not mine) is important.
In most sports you can sit close but are protected. You have the screen in baseball, the boards in hockey, and you can't get really that close in football. In basketball that isn't the case. I must admit that I sat in the front row of two basketball games this year. At the first one I sat in the front row with my son right next to the Boston Celtics bench at the American Airlines Center in Dallas and I must admit, I was a little nervous. I didn't want any of those 275 pound basketball players to fall on my son and potentially hurt him. The second time I was in Oklahoma City and I felt a little bit more confident since the guy I was with (thanks J.B) is a big, burly 275 pound former Texas A&M football player who I had hoped would protect me if Kevin Durant decided to jump in my lap.
Have you had any opportunities to sit very close at a basketball game?
Were you excited?
Were you nervous?
Did you have any athletes fall into your lap?
Did you like being on TV?
I look forward to reading your comments.