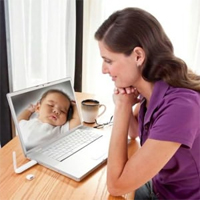 Daily, if not hourly, I am on Google. Even though I am not a power user yet, I have signed up for Google+. I am still trying to understand all of the benefits and applications, but love getting lost in the program and trying new things.
One of the things I like about Google+ is Hangouts. Clearly it is great for internal training, client conference calls, internal meetings, and tons of other applications.
I thought of another use a few days ago and wanted to see what you thought of my crazy idea.
Here it goes. Please sit down. Isn't Google+ good for video monitoring a baby? Meaning if you had two laptops (or a desktop and a laptop) couldn't you set up one in your baby's room and another one somewhere else in the house to monitor your baby? This way you could easily hear them, yet you could also see if they were sleeping on their back. Not only that, Google+ allows 10 people to connect. So why couldn't I view them from my office or have their Grandparents watch them as well?
So I ask you – Am I crazy?
If I had a baby I would toss the walkie talkies and try Google+ Hangouts for baby monitoring.
What do you think?
Have you ever used Google+ Hangouts?
PS – Even better, there is NO CHARGE for Google+ Hangouts.