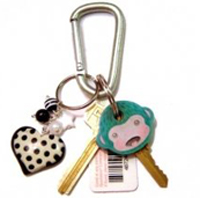 A few weeks ago I was in our Greensboro office, and I got picked up at the hotel from a colleague (thanks B.S.) who dropped me off at the office. Because she still had to drop her son off at daycare and we weren't for sure if the office front door was open, she gave me her keys.
As I was unlocking the door I noticed her key ring which had color coded keys, a picture of her daughter, some type of medallion on the key ring, and 5+ loyalty cards from different retail stores.
Of course my next thought was, "Blog!"
I thought about my key ring which has very little on it and is clearly very boring!
What do you have on your key ring?
Do you have different color keys?
Do you have loyalty cards attached to it?
Do you have a good luck charm on it?
Did you get your key chain on vacation?
I look forward to reading your comments.