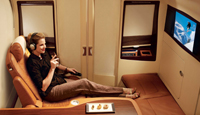 So there I am in Mexico with my partner A.S. when all of a sudden my name is announced over the loud speaker, "Merrill Dubrow, will you please report to the American Airlines counter?"
I walk up to the counter and the customer service representative says she has one 1st class seat available. I was next on her list so she asked if I wanted it. When I said I was traveling with someone and that wouldn't work, she said, "Ok" and proceeded to call the next name on the list. When I got back to where A.S. was sitting, I explained what had happened and the end result. We quickly got into a philosophical discussion of what would most people do.
Would that person split up and take the 1st class seat?
So what I would like you to do is answer these 6 quick questions.
CLICK HERE to start the quiz.