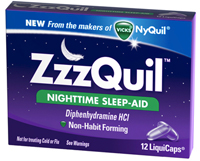 I remember a specific day in Philadelphia way back in 1995 when my friend and colleague I.B. gave me some medicine because I wasn't feeling well. About an hour later I couldn't keep my head up and when I inquired exactly what she gave me it turned about to be Nyquil instead of Dayquil! After a 'OMG' look on her face and a few more tired moments on my end, I was in a cab on my way home to go to sleep for a few hours.
Lots of friends of mine have trouble sleeping. Thankfully, I am not one of them, but I am always curious what they take to help them sleep. Lots of folks take Ambien and other medicine but I haven't heard of anyone specifically taking Nyquil to help them sleep unless they aren't feeling well.
Recently I was at the movies with A.S. and saw an ad for Vicks ZZZquil which is a Sleep – Aid Liquidcap.
Both of us think this will be a huge success! For lots of reasons – the name for sure – lots of people describe sleeping as catching some Zzzzzz's. Well this product has Zzz's in the name. Also, the brand awareness of Nyquill will definitely help.
Here is a little more information on ZZZquil:
A non-habit forming nighttime sleep aid for when you just need a good night's sleep
Reduces time to fall asleep if you have difficulty falling asleep
Sleep soundly so you wake refreshed
Not for colds, not for pain–just for sleep
From the makers of Vicks-Nyquil
So, I ask you. When you cannot sleep, what do you do?
Have you ever taken Nyquill to help you sleep?
Is Ambien your best friend?
If so – how does it work?
I look forward to reading your comments.