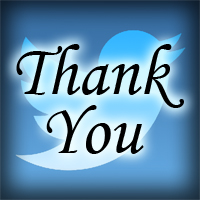 Six years ago when I started writing this blog, barely anyone at all knew about Twitter. Today is August 1st and I wanted to thank you using the latest technology – a quick tweet!
It means so much to me that you are still reading the blog and commenting so often. Without you there is NO reason to have a blog – Thanks!
PS – The body of the message was exactly 140 characters!
PSS – I look forward to reading any thoughts you have regarding the last six years!