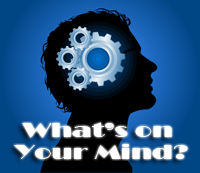 A few weeks ago I was reading an article in USA Today entitled, "What's on Americans' Minds?" I thought it was kind of interesting especially since it wasn't using phrases to describe things, but rather one or two words.
So as usual, I paused for a minute and started to build a list of "What's on My Mind." Here are the first seven things that came into my mind:
Dad
Health
Family
3rd quarter
Friends
Cape Cod
Red Sox
Now it's your turn.
Please take 30 seconds and let me know, "What is on Your Mind?"
I look forward to reading your comments.