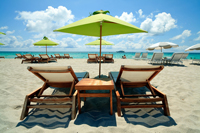 Yes, the summer is almost over and most, if not all of the readers of the blog have taken a vacation or two in the past few months. The question isn't where you went or what you did or even how much you enjoyed the trip. I promise that I won't ask you how awesome your tan is or what gifts you brought back for your kids.
What I want to know is this: Did you relax?
Yes, you were connected! And yes, your iPhone was always two inches from you and probably went off every 30 seconds with a new email/text or phone call.
Did you have a chance to relax?
How often did you respond to texts/emails?
Did you constantly say "give me a minute" to your significant other/kids while you were doing something work related?
Can you share a best practice of how you like to work while you are on vacation?
I look forward to reading your comments.