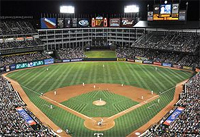 I truly love the Ranger's Ballpark in Arlington, Texas. It is one of my favorite 10 baseball ballparks in Major League baseball and recently they have done a great job with renovations and improvements, especially with food choices.
A few weeks ago I was there and noticed that the vendors walking around in the stands were selling water for $4.00. I am sure you are saying, "Well that's great Merrill, but who cares and no big deal." You are right on that point, but what if I told you I could go to one of the stands behind my section and buy the water for $4.25. And get this, behind the stands in right field they are selling water for $3.50.
I thought it was very interesting that there were 3 different prices for the same item within 150 feet of each other.
I can understand that vendors selling items in the stands could be more expensive but concession stands selling the same exact item 100 feet from each other for different amounts?
So I ask you, is that a mistake or a strategy?
I look forward to reading your comments.