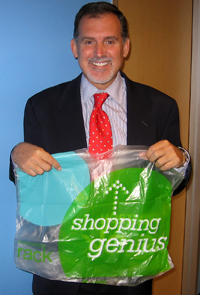 A few weeks ago I wanted to buy a new pair of jeans and of course I went to one of my favorite stores, Nordstrom Rack. As I walked into the store nothing else mattered to me except the table, or actually tables, with hundreds of pairs of jeans. As I was looking through the piles and piles of jeans, I came across True Republic, Joes, Citizens of Humanity, Lucky and many others.
As I went into the fitting room with my FIRST batch of jeans (8 pairs), I was greeted by a service representative named Robert who couldn't have been nicer. After every pair I would ask him and his colleague, a girl named Rebecca, how the jeans fit on me and I stressed, "Please be brutally honest." After doing this for 20 different pairs of jeans (I guess Groundhog Day) I identified 4 pairs that I thought, or actually we thought, looked good on me.
As I was getting ready to go to stand in the LONG cashier line Robert asked, "Would you like me to ring you up?"
"Yes." And much to my surprise he pulls out a small electronic device that rang up my $145 order (no Tax weekend in Texas) in less than 1 minute. What a great experience!
In addition to all that they put my new bought jeans in a bag that said 'shopping genius'!
Amazing! 4 pairs of new jeans for $145 and on the bottom of the receipt it said I saved over $200… and it came in a bag that called me a shopping genius! What a great shopping experience. Thanks Nordstrom Rack – Life is good!
When was the last time you felt like a shopping genius?
Have you had a similar experience at Nordstrom Rack or another store?
What is your favorite store to buy clothes and why?
I look forward to reading your comments.
PS. When I asked Robert if the electronic scanner was new, he said, "Yes." They were testing it out and he also added that customers loved it!