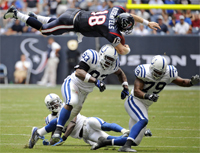 Week 6 started last night and yes, there was another upset. Only 10% of the participants were able to predict the outcome of the game including my daughter who knows little about football but made her pick based on the name of the team – Tennessee Titans. Last week Tal Shahar and D Dolphus won the pool and joined Laurel Glenn, Brandon Bettaga, Jessica Cons and Sharon Gautschy who all qualify for the Championship week and a chance at the grand prize of $500… And more importantly, bragging rights for the next 9 months!!!
For the fourth week in a row a female has won the pool!
In addition, the two people who have the highest cumulative score (these standings will be updated weekly) will be given a spot in the grand prize pool along with the weekly winners. As of right now Tal Shahar has 54 wins followed by Steve Larson who has 53 wins.
Remember, if you use the same email to enter a friend, colleague or a family member, our system will count the most recent email as your picks.
To see the current standings,click here. The results page shows this week's current standings as well as the cumulative rankings.
All picks need to be in by 5:00pm (CST) on Thursday, October 18.
Click here to participate in this week's pool.
Feel free to share the link and have friends, colleague, relatives, kids and anyone else you want join the pool.
Good luck to all.
PS. My son Justin has 50 overall wins and is still kicking my butt in the pool!