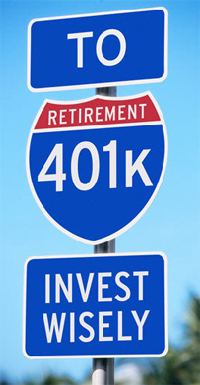 Over the past week I have had over 10 discussions with friends and colleagues regarding 401k programs. The interesting thing is most of the conversations go like this:
Are you part of the 401k program? Yes.
Originally how did you make your choices for which investments to choose? I looked at the different options, history and went with what I thought was the right options for me.
Did you have a professional or a financial analyst help you make the decision? No.
How often do you review your choices? Not that often, I look at the quarterly statements and don't do much about it.
So you have never changed your investment choices? That's right – I haven't.
Before I ask the next question most of them say I don't really know what I should do and it tends to be a little confusing, so I just leave it alone.
The last question I ask is, "Do you know how important it is too review your choices?" Everyone says they do and they will very soon.
Does this sound familiar?
Most people are aware of the volatility of the economy and how important this is. The fact is they are long overdue from reviewing it alone or with a professional. I called a few contacts of mine who are financial analysts and asked them how often they look at their own 401k choices and what they recommend for their clients. Most responded with a few times a year.
So I ask you… Is today the day you review your 401k choices? I say yes…
I look forward to reading your comments.