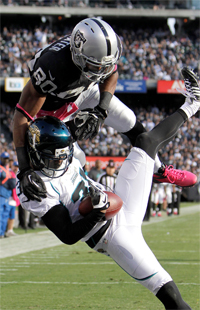 Last week we had 6 people with a perfect score of 13 wins! I doubt that will happen this week since only 13% of the participants picked last night's upset of the Minnesota Vikings. Congratulations to B Nixon who won last week and joins Doug Golab, Tal Shahar, D Dolphus, Laurel Glenn, Brandon Bettaga, Jessica Cons and Sharon Gautschy who all qualify for the Championship week and a chance at the grand prize of $500… And more importantly, bragging rights for the next 9 months!!
In addition, the two people who have the highest cumulative score (these standings will be updated weekly) will be given a spot in the grand prize pool along with the weekly winners. As of right now Tal Shahar has 75 wins followed by Steve Larson and Rich Zeichner who have 70 wins.
We are trying to make the football pool a little more fun and have added a few quick questions prior to making your picks. Here are a few tid-bits:
Favorite NFL team: Dallas Cowboys 27%, New England Patriots 9%, NY Giants 8.4%
34% of the pool participants are female – interesting since most of the winners this year have been female.
Remember, if you use the same email to enter a friend, colleague or a family member, our system will count the most recent email as your picks.
To see the current standings, click here. The results page shows this week's current standings as well as the cumulative rankings.
All picks need to be in by 11:00am (CST) on Sunday, November 4.
Click here to participate in this week's pool.
Feel free to share the link and have friends, colleague, relatives, kids and anyone else you want join the pool.
Good luck to all.
PS. My son Justin has 67 overall wins and is beating me by 8 wins.